Latest updates featuring Sydney Hail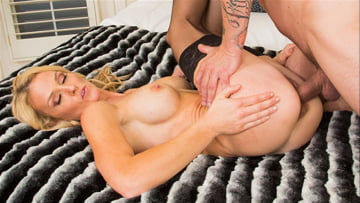 27th November
- Sydney Hail is excited for Cyber Monday! Not just because she's getting packages delivered to her home, but because they're vibrators and they're goin
g to make her pussy feel so good! But wait! The delivery guy comes and out of excitement she opens them right in front of him, only to discover that she's received the wrong kind of sexy toys: dildos. Sydney's upset, and the poor delivery guy has no idea what to do – he just delivers the stuff – but he tries to console her as best he can. But obviously horny, she takes his consolation to the extreme by ripping his clothes of and whipping his dick out. Cyber Monday turns into Gimme-Cock-Today for the cougar, who gets exactly what she wants.
...Read More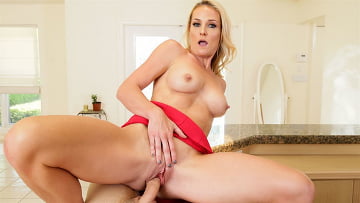 21st September
- Devastation is when you walk into your home and find that your spouse has left you and taken everything except for a plant. That's what Sydney Hail's
feeling now, arriving home to nothing two days after filing for divorce. She's distraught, but luckily her son's friend Peter stops by dropping off a package, and turns out to be a good distraction for her. Especially when she takes notice of the package in Peter's pants! Mrs. Hail implores Peter to call her Sydney, especially while he's fucking the soon-to-be-single MILF from behind!
...Read More
>> CLICK HERE TO DOWNLOAD <<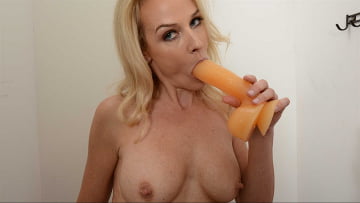 14th July
- Shopping trips are never boring when your girlfriend is blonde nympho Sydney Hail! This hottie ducks behind a rack in the exclusive boutique to flash
her tits and her bare pussy at her boyfriend Justin, and he films her getting naked right under the noses of other shoppers and the sales clerks. Sydney finds a quiet spot to sit down and play with her pussy before heading into the dressing room where she UNdresses to finger herself and rub her clit. Justin gets every second on video from the other side of the curtain until he can't take any more teasing so he joins her inside to fuck her tight pussy standing up against the wall. Sydney doesn't need to try on any clothes, because she already knows that Justin's cock is a perfect fit!
...Read More
12th April
- Kyle Mason and I were driving around the neighborhood. Kyle was soon to be married and I was concerned that he was making a mistake since his wife mig
ht be the last and only pussy he'll ever get for a lifetime! Which is a long time without any new pussy to pound, am I right? Anyways, during our car ride we happened to spot a MILF who was having some visible car trouble with her car on the side of the road and the hood up. She introduced herself as Sydney and she admitted to us that she hadn't had a lube job in a long time! We instantly knew that this MILF needed some serious dick! Luckily for Ms. Sydney Hail, Kyle is a nice enough guy to want to help a woman in distress. Only, once the car issue has been resolved, as a gesture of gratitude, this cock craving MILF got down on her knees and started to suck Kyle off right there in the middle of the road! Sydney offered to bring Kyle back to her place so that he could get his clothes cleaned, but little did he know that this was the last pussy he was going to get before getting married! Sydney deep-throated him and showed off her years of cock sucking skills before riding him until he had to go home--but not before dropping his load all over this slutty MILF's beautiful face! That's one oil change we soon won't forget, thanks Sydney!
...Read More