Latest updates featuring Jessie Wylde
Jessie Wylde wants to get wet! It's hot out, she's got her bikini on and she's ready for a dip in the tub, but Tyler's over wrenching on it and tells her to get out because the PH on it's way off. Little rich Jessie doesn't want to hear "no," but she hops out and gets under the outdoor shower, then takes it upon herself to take her bikini top off and start masturbating! Round the corner Tyler comes, but he's not having any of that, not with her big, mean dad employing him! But is her dad around right now? Fuck no, Jessie says, and puts her hands all over Tyler's big dick, pulling it out and putting it in her mouth! A little outdoors sex never hurt anyone!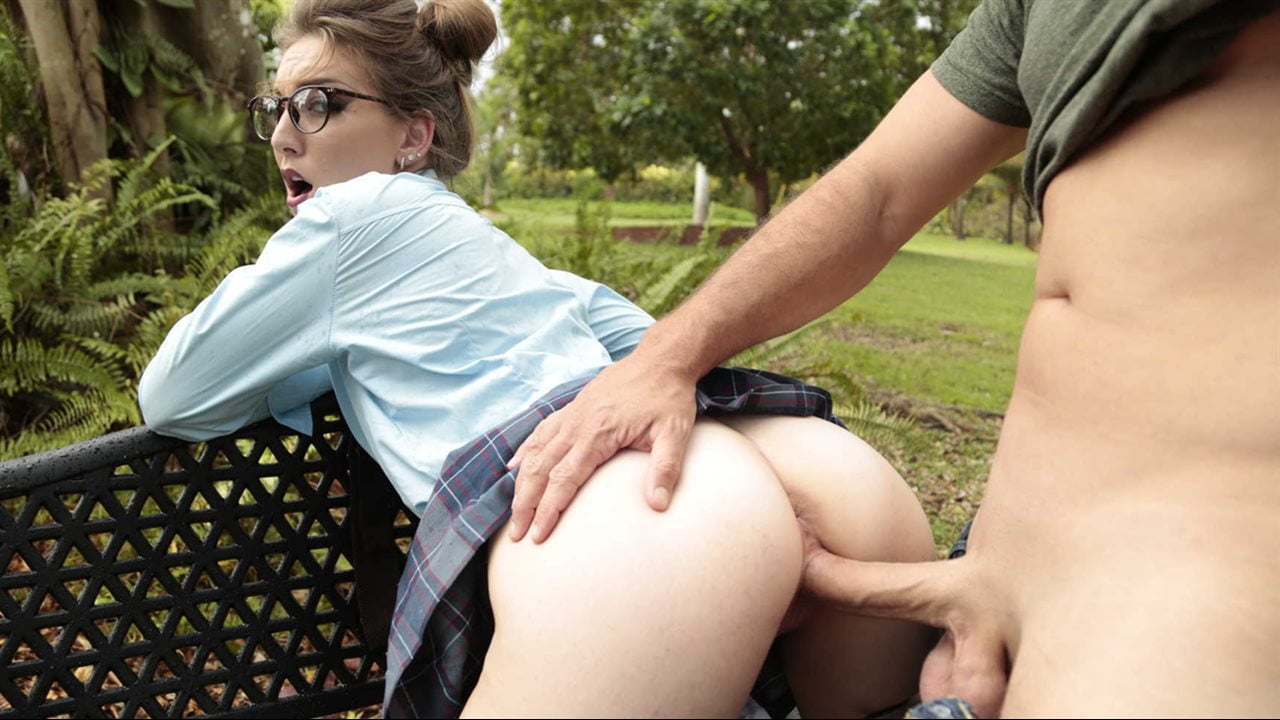 I was out in the park when I spotted this hot hipster photography student Jessie Wylde, taking pictures with a vintage camera. Her creamy thighs looked so tempting in her miniskirt I had to get to know her better. Plus, I had a feeling that her tight pussy was absolutely picture perfect! Something about this little tease instantly made me want to fuck her – we flirted and hit it off, and she mentioned she was saving up for better equipment. I told her I could help her out with her dream of being a fashion photographer, if she could help me out with my dream of her modelling in my sex film. As it turns out, Jessie Wylde loves being on both sides of the camera, especially when she gets to suck and fuck a dick that puts her zoom lens to shame! Jessie's sweet lips wrapped around my cock as she sucked me off in the park before I stuffed my big dick deep inside her tight pussy right there on the bench! I hope to run into Jessie again soon, because I'd love to fuck that picture perfect pussy again!
Jessie is getting ready for her annual house party when she decides to slip her remote control vibrator into her pussy. Her private time is interrupted when her husband tells her the catering team has arrived. Jessie sends her husband to go relax as she greets the wait staff. Jessie hands the waiters the remote to her vibrator and explains that they'll be in charge of pleasuring her all night. The waiters look at each other surprised and Jessie giggles as she heads into the the living room to greet her guests. Jessie is in the middle of a conversation when the waiters remotely activate her vibrator. Jessie writhes around in pleasure as her guests watch confused. The waiters take turns controlling the vibrator and Jessie can barely contain her pleasure. Jessie's husband looks at her concerned and she excuses herself to go lie down. On her way to the bedroom, Jessie passes by the kitchen and signals for a waiter to follow her. She leads him to the bedroom to where he helps her release her pent up passion.