Latest Updates from Naughty America (Page 118)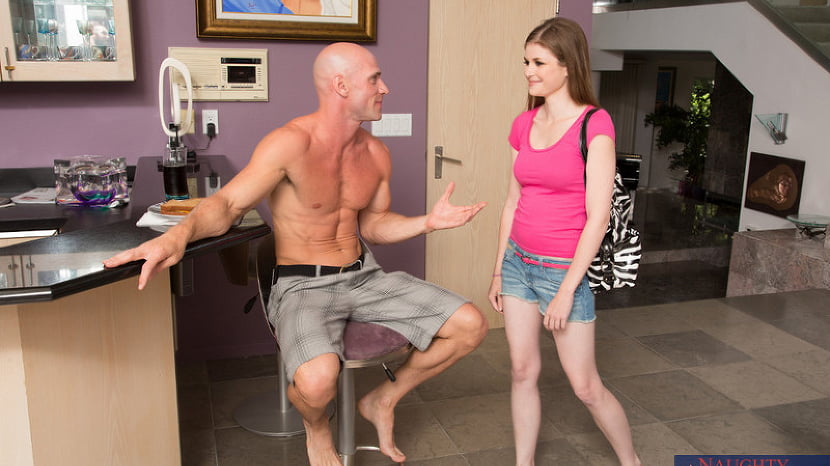 Johnny's chillin' at home munchin' on a sandwich when into the kitchen struts his sister's friend Lara Brookes, acting sassy, as usual. She starts hitting on Johnny, telling how she's attracted to college football players like himself, and that she's willing to show it. Johnny doesn't know what to do since his sister's friend is jockin' him, so he just keeps eating his sandwich while she blows his big dick, then he moves on to dessert and eats her pussy!
Jade Aspen is feeling down since her friend got the part that she had auditioned for. She's talking to her friend's boyfriend Tyler about it to relieve a little stress and tension, and when he tells her that even though she didn't get the part, he thinks she's a lot hotter than his woman ... especially since her tits are way bigger! The compliment cracks a smile across Jade's face, and even gets her to take off her top and bra so Tyler can suck on her big juicy tits and fuck the hell outta her!!!
Ryan's got a hot roommate, Natalie Moore, so his buddy shows up one day with flowers for her. But the fool left the balloon and card for her, so he had to split while Ryan ends up standing before Natalie with a bouquet, flattering her. Problem is 1) Ryan didn't get the flowers for her, and 2) Ryan's married. But the other problem is that 1) Natalie doesn't know, and 2) Natalie doesn't care! She's so hot and wet by the flowers that she's ready to get de-flowered by Ryan's stiff dick while his wife isn't around!