Latest Updates from Naughty America (Page 106)


Jayden Jaymes is tired of her boyfriend always working and never making much time for her. And when he does, they always just stay inside and have sex, which she's bored of. So it's a breath of fresh air when her boyfriend's adult son Bill takes her out for the day when his dad is out on business. The two go to a park for a picnic, and it's only a short walk to the beach, which makes Jayden ecstatic. In fact, she's so happy that she admits to Bill how attracted she is to him. He's in trouble when she pours water all over her beautiful big tits in her bikini. Bill can't help himself when Jayden eggs him on and pulls those bad boys out for him to suck on, then goes on to swallow Bill's giant cock and fuck him right there in the park! What's a horny son to do?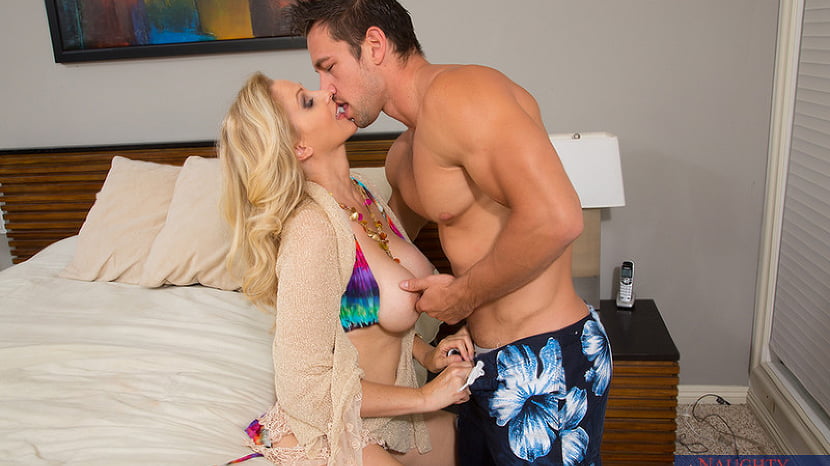 Johnny and his girlfriend Julia Ann are waiting for their friends to come over when it comes up that his pal's woman loves anal sex. Johnny's dying for it from Julia, and she's not too sure what she wants. But they have to pass the time, so when they get to messing around, she opens up her asshole for him, getting it all warm and juicy, and allows him to slip his big hard dick in her to give her the anal sex she never knew she always wanted.
Billy's getting ready for the barbecue when he sees his wife vacuuming so he goes to grab her ass and have some fun when --oops! -- it's not his wife! It's his wife's friend India Summer, who's wearing his wife's blouse and looks just like her. He apologizes to his former flame India, but when he finds out his wife is out running errands, he tells her best friend that he needs to fix the urge he has to fuck. India's down for his big dick, so she swallows it whole than sticks that big hard dick up her wet pussy before her friend gets home. Now that's a piece of meat.