The horny porn star from Medellin, Colombia has made it to Naughty America! We love Ariella Ferrera, what with her beautiful body, horny attitude and hot performances! Where else would you be able to watch her Dark Brunette hair flow while she's getting slammed by a giant dick in doggystyle! Nobody Does It Better! Wow. We look at Ariella Ferrera pictures and she is fucking HOT! That's why Naughty America scooped her up. Her Big Fake Tits tits mesmerized us so much that it was just too much to handle. There's nothing like gazing into her beautiful Brown eyes while she's giving a nasty wet blowjob! Just try it and you'll instantly want more of Ariella Ferrera porn videos at Naughty America! You wanted suck and fuck, you've got it! Ariella Ferrera does just that at Naughty America. Whether she's giving a sloppy blowjob or taking a big dick doggystyle, this sex fiend gets what she wants! Watch her mount a massive member and ride it cowgirl style, then bend over and taste her own juices while getting her pussy eaten out. Ariella Ferrera does wonders at Naughty America. Watch her hot porn videos and find out! If you've ever desired to see Ariella Ferrera get fucked on Naughty America, you're in luck! The sexy MILF has taken her porndom to our land, where we fulfill fantasies by the dozen! Ariella Ferrera will fit in to your deepest desire, in which she'll suck cock and get fucked like you want her to. Watch this Brown-eyed beauty take her lust to great heights on Naughty America!
Latest Updates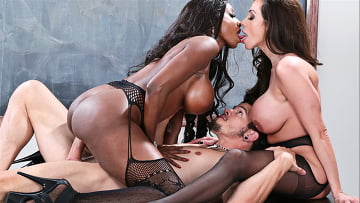 7th April
- Arielle Ferrera gets called into the college because her idiot stepson Bambino did something stupid in class — he pulled his big dick out on a dare!
His professor, Diamond Jackson, has a talk with Ariella and him about all this and cautions them that she may need to involve the dean. She has her student show his stepmom exactly what he did, but nobody can believe how massive his cock is when he wriggles it out of his pants! Professor Jackson and Ariella confer in private and make a determination: they're willing to is willing to overlook things if Bambino fucks them in a professor-stepmom threesome! Do you think he'd dare?!
...Read More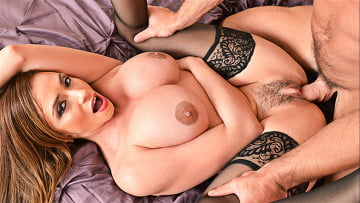 10th February
- Ariella Ferrera is in for a treat! Her husband just closed a major deal, which means a massive celebration! Her hubby's co-worker, Johnny, who helped
him with sale, comes over to partake in the festivities, which means -- SURPRISE -- fucking Ariella! Yes, Ariella and her husband are in to hotwifing, which means Johnny gets her big tits in his face, and it's totally ok with her husband. In fact, he gets off on his dirty wife sucking Johnny's dick and fucking him until he cums all over her. Johnny does his duty … and he can't wait to make the next sale!
...Read More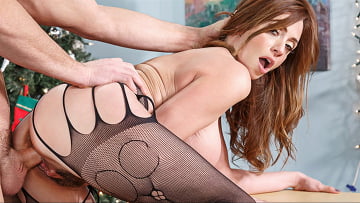 24th December
- Christmas eve and Ariella is making Charles work overtime.
11th September
- Ariella wants to end the sexual relationship she's having with her student but this young cock just won't give up and her pussy just can't say no to h
im.
...Read More