Latest Updates Featuring Marilyn Mansion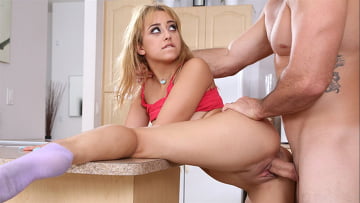 28th September
- When JMac catches his buddy's girlfriend Marilyn Mansion dancing to music in her earbuds while cleaning in the kitchen, he bombs her with singles like
she's a stripper! Marilyn's embarrassed but she plays it cool, even when J starts hitting on her while her boyfriend isn't around. He's always wanted just one little kiss from her, so Marilyn decides to give him what he wants if it'll shut him up and leave her alone. So she does…and it turns into her getting her little pink pussy getting obliterated by his massive cock! Marilyn's tongue goes from inside J's mouth to all around his dick and balls before they slam her from behind, making her big natural tits bounce and flop all over the place! One innocent kiss is all it takes…and then your buddy's chick has cum all over her lips!
...Read More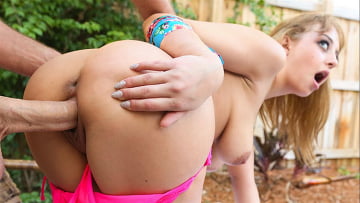 18th August
- Marilyn Mansion is trying to sun by the pool at her friend's house, but her friend's dumb-ass brother Sean is out there snoring, so she gives him a pl
ayful little splash. He thinks it's just a sun shower and goes back to his slumber, but Marilyn isn't one to be ignored…especially since she's been dying to see Sean's big dick, and with his sister gone, now's her chance! She splashes him again, but this time removes her bikini top to show him her fat, big natural tits! Sean doesn't want to get busted by his sister, but who can resist a rack like that? Not to mention she's get amazing blowjob skills!
...Read More
>> CLICK HERE TO DOWNLOAD <<
18th September
- Marilyn Mansion and her boyfriend love to do thrill seeking sexual role play. On today's endeavor Marilyn was playing the role of helpless female held
captive in trunk of car. She was so excited and wet just from the feeling of being in distress. Just after she was locked in, her boyfriend stepped away for a second. Just then a car thief showed up and jacked his whip! He thought he was in the clear until he heard a noise coming from the trunk. He went to investigate only to find Marilyn tied up with her mouth taped shut. The thief started freaking out because his possible grand theft auto charge just turned into kidnapping, but Marilyn had other ideas. She still desperately wanted a rough powerfucking and would consider letting him off the hook if he did her right. You don't have to tell this sick fuck twice! He proceeded to fuck Marilyn better than her boyfriend ever did, leaving her used, abused, and covered in spooge!
...Read More
16th August
- Guys drove around until they found this chick walking into the beach and make sure to get some time to interview. They talk to her and convinced her t
o flash and to take a ride with them. They quickly got her to be topless and have a stud playing with her big tits. She tits fucks as she sucks his cock before she finally starts getting fucked. We get to see her big juicy tits bounce from multiple positions until she makes the guy cum.
...Read More